.

informazioni Information distributori Italia
MAGIC MECHES by Rodolfo Designer, distributore esclusivo BHS srl
Eseguire meches o giochi di colore, da oggi sarà più facile
Due dispenser muniti di tre beccucci ogniuno, i beccucci si possono posizionare a piacere.
E' possibile escludere i due laterali, o anche uno solo, questo permette di gestire al meglio lo spessore delle meches desiderate.
Due tappi di colore diverso permetteranno di distinguere la miscela all'interno dei rispettivi
dispenser qualora si utilizzino entrambi con colori diversi.
Miscelare in maniera omogenea il decolorante o il colore.
Evitare che la miscela sia troppo liquida o troppo consistente e soprattutto non abbia grumi.
Basteranno tuttavia poche prove, per trovare la giusta consistenza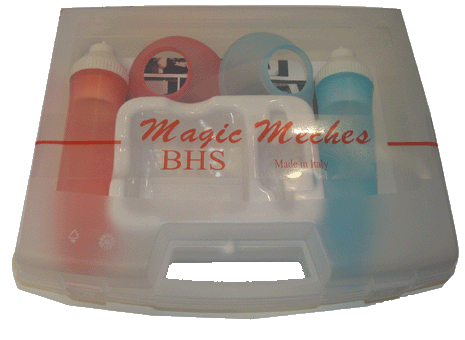 hts, face painting, amusement, leisure parks, fun, make-up, halloween, promtional, advertising, photography, family, adult, nude, business opportunities PARRUCCHIERI PARRUCCHIERI ACADEMY ACADEMY PARRUCC PARRU PARRUCCH HAIRSTYLE HAIRSTYLES HAIRSTYLE ON LINE PARUCCHIERI COIFFURES POSTERS , ALBUMS , hairdressers, fashion , beauty , ACCESS , SOFTWARE GESTIONE SALONE FOEN GESTIONE SERVIZI ALAN EDWARDS , AVANT GARDE, BOMS, SAM BROCATO, PATRICK CAMERON BURLINGTONS , WILLIAM GRAY , WIEL EN ELL ESSERS, GUY KREMER, MAHOGANY, MARLIES MOELLER , PAUL NATH , TERENCE RENATI , PERTNERS , RAINBOW ROOM , SANRIZZ , TONI ; GUY , VIDAL SASSOON , trevor sorbie , LLONGUERAS , HAIR , ESTETICA , SANRIZZ , QUEEN , SALON , ELLE , VOGUE , AMICA , DONNA MODERNA , HCF , TRUCCO , SEBASTIAN INTERNATIONAL, PASSION , WELLA , AVEDA , MATRIX , FRAMESI , JOICO , ZAGARELLI , KEMON , DAVINES , CARLO BAY , JEMS , ROSSANO FERRETTI , LAVORO , JOB , YASAKA , LONG HAIR , MALETTI , VEZZOSI , TAKARA , PIETRANERA , LAVAGGI , COUVET , POLTRONE , ARREDAMENTI , ELLE , AMICA , RAI1 RAI2 RAI3 TMC RETE4 CANALE5 RAI INTERVIEW XTAH LAMINATES SHPRTZ FORTE LAMINATES GEL LAMINATES DROPS SHAPER PLUS GET A GRIP GET IT STRAITT FIZZ FIZZ EXTRA SALON INTERNATIONA , ALTERNATIVE HAIR SHOW
Flat Irons and Pressing Irons, Professional Flat Irons from Solano, ADST ex Ceramic Flat Iron, Infra-Shine, Futura, Ceramik, GAMA, Blue Sapphire, CHI Ceramic Flat Irons, SuperStar, ADST Megas Ceramic Flat Iron, OBS, Unil ceramic flat iron, OBS, HAI Stik Ceramic Iron, andis High temeperature flat iron, Hot Tools, Bio Ionic Pressing Iron, Fromm, HAI Ceramic Flat Irons, HAI 2 Ceramic, Pibbs Turbo Power, Caruso, Jilbere, Tecno Standard, Wigo, BaByliss Pro and ConairPro. Just scroll down to choose from Flat Irons, Crimpers, Pressing Irons, Ceramic Irons, Wavers, Concave Irons and Interchangeable Irons...